The flu season is a recurring threat, but it is possible to mitigate its effects. Swedish research shows that the spread of flu infections can be reduced by using modern technology. Viruses can be rendered harmless while they're still in the air, an effect that has benefited several schools and offices.
Now that we are returning to work and school after months of pandemic restrictions, we are doing it with new routines. We wash our hands, stay home when we are sick and use hand sanitizer continuously. But despite this, reports abound about virus outbreaks and overfull hospitals.
As soon as the weather gets a little colder, we'll see both new and old viral diseases appear again – it's part of the natural order. Fall, winter and early spring are high seasons for diseases such as influenza, winter vomiting disease, and other infections. This costs society and companies huge amounts every year, based on staff absences, treatment of the sick, and sick benefits. And when it comes to students, missed classes create a huge problem as well.
Healthcare providers work intensively – both preventively through information campaigns, and actively by examining and treating patients, especially those in risk groups. But what if it was possible to reduce the risk of infection early on, in the places where it usually spreads?
It's actually possible. With the help of modern research and technology, a solution has been created for organizations and schools to neutralize viruses and thereby reduce the spread of infection.
How to reduce the risk of infection
Years of research, including a seven-year study from the Karolinska Institute, shows how Swedish-developed technology acts as a virus inhibitor on a plethora of viruses. The patented technology includes work done at the Swedish Royal Institute of Technology (KTH) and is included in a tailored offer for workplaces and schools: LightAir Health+.
"The technology attacks airborne viruses and neutralizes 97% of them, directly in the air," says Joakim Hansson, business area manager at LightAir. "By installing these virus inhibitors to provide full coverage, you can reduce the risk of infection significantly. And our highly efficient air purification ensures that people who spend a long time on these premises breathe clean air with all the other benefits that it entails."
When major outbreaks of disease start, they often begin with local virus outbreaks in schools and workplaces. These are premises where many people gather in a limited area. If you can break down the airborne viruses there so that they lose the ability to attach to  human cells, you have come a long way in reducing infection rates.
Reducing the number of workplace sick days produces cost savings, of course, because you can more easily maintain productivity. Organizations that have installed LightAir Health+ testify to a 20% reduction in sick leave.
In schools, it's about providing all children a level playing ground. Children who absent because they are frequently ill, or who have upper respiratory diseases such as asthma, risk slipping behind.
"We want everyone to have the same opportunity to perform, both in offices and in schools," says Hansson.
Evidence-based technology
The Karolinska Institute study shows that LightAir's virus inhibitors work against a wide range of viruses. It was possible to see at a particle level that viruses were neutralized, and it was seen in practical experiments because none of the experimental objects became infected when the virus inhibitor was active, while three out of four became infected when it was not.
The study shows that the technology actively inhibits viruses with protein shells, which include, for example, influenza and coronaviruses such as sars-cov-2.
Clean air as a service
Buying many products and then arranging for filter changes and maintenance can become an expensive business in the long run. LightAir instead offers a subscription solution. The advantage is that you don't have to think about anything at all, everything from assembly to maintenance is taken care of, including a permanent warranty. There is a fixed cost per month, with no unforeseen expenses.
The air purifiers and virus inhibitors can advantageously be ceiling mounted and have an extremely low noise level compared to traditional air purifiers.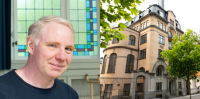 "You can hardly hear them, even when the rooms are empty," says Jonas Persson, IT manager at Enskilda Gymnasiet, a school that installed LightAir Health+ for both staff and students, in order to create a more attractive school. "And they draw so little power that we don't even have to turn them on and off."
Enskilda Gymnasiet has 30 LightAir Health+ systems installed, and both staff and students have noticed a big difference. In addition to neutralizing viruses without any filtration, the air is also filtered from viruses, bacteria, exhaust fumes, allergens and other unhealthy substances. The air purifiers are based on an innovative and patented Swedish filter solution.
If you have pollen allergy sufferers in the workplace or asthmatics in a school setting, they will benefit a little extra, because they can be levelled up to the same conditions as their colleagues and classmates. In addition, anyone who spends many hours on the premises can breathe out – and in again – because the more than 8,000 breaths they take every workday contain clean, fresh air that provides energy instead of bringing on illness.
Increase productivity and reduce sick leave – reach out for free consultation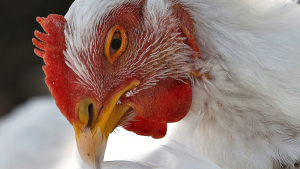 Bird flu is ravaging several regions in Europe. Earlier this winter, large parts of southern Sweden was classified as a high-risk area for the further spread of this virus infection. At the same time, there is proven technology that helps us with improved virus control.
Read More »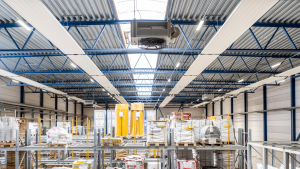 Particle-intensive industry purifies air with crushingly low life cycle costs. Learn more about how Sto Scandinavia meets its tough challenges in a factory and warehouse in Linköping.
Read More »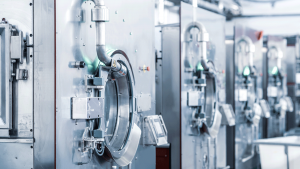 LightAir has signed a framework agreement regarding air purification with Elis Textil Sverige AB, part of Europe's leading group in textile and hygiene services. In general, specific challenges are found in the laundry industry due to high particulate levels, which are inevitably generated by handling large quantities of textiles.
Read More »