At LightAir, we utilize unique ionization technologies that purify air, and especially the smallest and most unhealthy particles. We're fond of saying that we're in the health and air cleaning business, not like others who are stuck in the business of selling filters.
Another tech-savvy company that realizes the advantages of ionization is Audi, with their Air Quality Package. It delivers innovative technology to enable cleaner and fresher air while driving. With the help of dual ionizers, passengers are protected from particles such as exhaust and irritants from the outside environment. The positive impact of negative ions is something we have covered in this blog article.
Audi's solution includes dual air quality sensors, which analyze particles both inside and outside, and the information can be viewed on the car's on-board monitor. The solution doesn't just monitor air quality but also provides proper ionization and filtration of the air inhaled by the driver and any passengers. Unhealthy particles are easily captured before they are circulated in the vehicle, supplying fresh and clean air.
The main effects Audi is focusing on are, of course, improved driver concentration and less fatigue behind the wheel. They state that the Air Quality Package enables a space free from harmful particles, so it's recommended for allergies as well.
Health, better concentration and improved stamina
– great while driving AND AT WORK
Audi has done a great job with their Quality Air Package – by recognizing "the invisible problem" and taking up the fight for improved air quality through ionizing technology. Their concerns and developments within this area are also highly related to what LightAir supplies, e.g., through our combined offering of LightAir Health+.
Our innovative and patented ionization technologies enable us to attack the smallest particles – that are of utmost importance to securing our health. Our high-density ionization cleans the air from auto exhaust particles and pollen allergens, among others.
The IonFlow technology – included in the LightAir Health+ offering – is also scientifically proven through a seven-year research study at the Karolinska Institute focusing on its virus inhibition capabilities. The research highlights how the unique high-density ionization neutralizes the virus's ability to enter and infect a human cell.
The technology reduces the number of infection-carrying viruses by up to 97 percent, while they're still in the air and without being forced through a filter in another part of the room.
Read more on how technology should be used to reduce infectious diseases, as an extra added safety layer and a given tool for fighting the spread of viruses.
Subscribe to our newsletter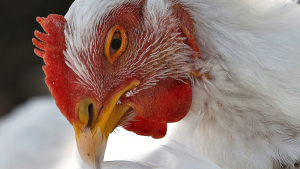 Bird flu is ravaging several regions in Europe. Earlier this winter, large parts of southern Sweden was classified as a high-risk area for the further spread of this virus infection. At the same time, there is proven technology that helps us with improved virus control.
Read More »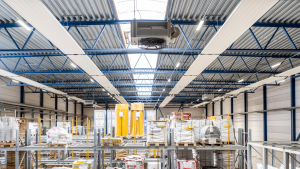 Particle-intensive industry purifies air with crushingly low life cycle costs. Learn more about how Sto Scandinavia meets its tough challenges in a factory and warehouse in Linköping.
Read More »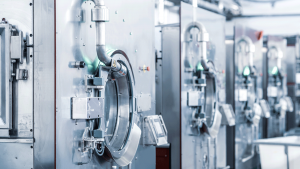 LightAir has signed a framework agreement regarding air purification with Elis Textil Sverige AB, part of Europe's leading group in textile and hygiene services. In general, specific challenges are found in the laundry industry due to high particulate levels, which are inevitably generated by handling large quantities of textiles.
Read More »